Thanks
Paul
for mentioning me on your blog twice this week. Yes, it is in fact my birthday coming up-- and in preparation, here's a fun
article
from
CNN.com
: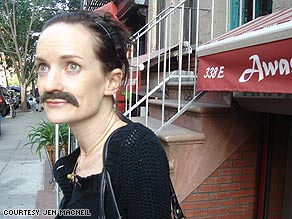 Approaching 30 can cause angst for some

twentysomethings

. But for Jen

MacNeil

, it was a reason to celebrate her life and try some pretty cool things.

MacNeil

decided to give her 20s a big sendoff by doing one new thing every day from her 29

th

birthday until the day she turns 30.The things she says she has tried range from giving someone a haircut and learning to fold fancy napkins to castrating a calf (which she says isn't as gory as it sounds) and serenading an overworked customer service representative. Some of her favorite experiences include adopting an endangered species (a blue-footed booby), culturing organic honey by using a chainsaw and attending an Al-Anon meeting. Of course, being featured on CNN makes the list, too.

MacNeil

documents all of her adventures and misadventures on her blog:
In the New
. She gets hundreds of readers from all over the world, inspiring people to step outside their comfort zones. As she says on her blog, "Life is short, let's make it interesting."